Extensive Background Investigation $150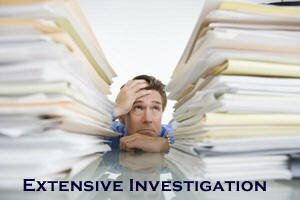 Searching on your own for the facts about someone's past may prove an exhausting and fruitless endeavor.

The reality of 21st century interpersonal relationships requires informed decisions to enable the protection of companies, employees, families, property and investments.

When you must know the facts about so past - for personal or professional reasons - our Extensive Profile Report taps every essential records source,

Report Includes |

Sample Extensive Report |
Compare Reports |
Sample Credit Report |

Sample Bank Report
Extensive Background Check:



Investigative Professionals accomplishes though investigations for business or personal reasons. The depth and breadth of information we make available to you can often make the difference between success and failure in a variety of relationships.

Our all-in-one multiple database search mines all important public and proprietary database sources available. The Report includes: National, county and state criminal and civil records, real property ownership, liens, judgments, and bankruptcies. Business relationships are also revealed. This is a very comprehensive and thoroughgoing report.

This is also an excellent personal records check, which will show you what others, like employers, see when they request a report.

We have been conducting thorough personal history investigations since 1996 for individuals, employers, property owners and managers,
company executives, financial institutions, universities, and law firms.

Investigative Professionals' reports are often returned within hours and are 100% guaranteed and confidential. We offer free consultation by phone and by email.

Extensive Background Check:



You can add a Credit Report. a (signed release required) and a Bank Search. - See Bank Searches Prices Turnaround time is usually 7 -14 business days.