---

Business Sign Up
for Discounts

---

EMAIL US
PHONE: 520-280-6659
FAX: 877-657-6691

---
Person's Identity Verification $75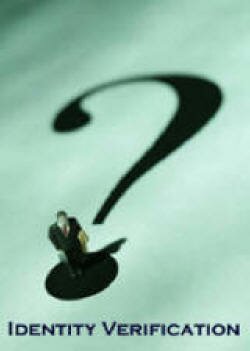 Investigative Professionals' unique Profile Report is a multiple database search, to identify your subject and to provide pertinent background information.

Confirm family members, relatives, spouses and neighbors - the people most likely to know about your subject - are also returned. This is the very best method you can employ to trace hard to-find-individuals.

We run every public records database search available to us to identify your subject. We will search both current Public Records databases and our proprietary databases to compile the Report, which will provide all pertinent background information about the person in question to you.

Sample |
Compare Reports
People Identifier Profile



Our experienced Search Consultants will go to work for you immediately, returning all discovered information in concise, easy-to-read format.

We offer free consultation by phone and by email. Reports are routinely returned within hours, and are 100% guaranteed and confidential.

We have been conducting thorough background investigations since 1996 for individuals, employers, property owners and managers, company executives, financial institutions, universities, and law firms.


People Identifier Report - Databases Searched

Personal Information and Identity Verification

Identity Verification. Important database searches prove or disproves identity; discovers or confirms "identifiers" like DOB, SSN, and addresses.
Identity Verification. Important database searches prove or disprove identity; discovers or confirms "identifiers" like DOB, SSN, and addresses reported on credit applications
Also Know As (aka's). Discover other names associated with subject's Social Security Number (SSN). Search and Verification. Has your subject used other Social Security numbers in the past? This could be a cause for concern.
Others Associated with Subject's SSN
Current and Previous Addresses. Database returns periods of occupancy
Names of Persons at each address subject has resided. May include spouses, family members, roommates, and live-in lovers
Phone Summary
Subject's Residence, Property Owners
Possible Properties Owned by Subject
Possible Associates
Possible Relatives
Possible Neighbors
National Death Index
Financial and Professional Information
Motor Vehicles Registered. May also include vehicles owned by others living at the subject's address
Criminal Records
Offender Search - State's Databases of Offenders
Nationwide Criminal Record Search (DPS/AOC/DOC)
This report searches multiple criminal record sources which includes federal fugitive files, department of correction, prison parole and release files, national convicts database, probation records, and possibly records from other state agencies.
OFAC Database: The Office of Foreign Assets Control, (lists criminals and terrorists around the world).