Business and Corporate Investigation - Verify Owners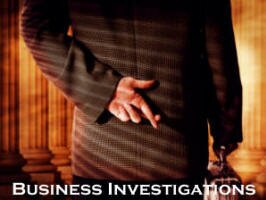 Are you considering a professional relationship, as either an investor or partner? Learn everything you can about the business in question. Learn about the people involved.

We compile a valuable profile of any U.S. company, partnership or corporation, it's creditworthiness and standing in the local, state, and national communities.



Sample Business Report |
Compare |
Sample Credit Report |

Sample Bank Report
Business Background Check


We confirm your input and give an account of all we learn. You do not need to know the names of the company owners as we will identify the owners with the included Business Credit Report and conduct a thorough background check on each, which includes four levels of criminal searches, civil search for lawsuits and legal actions, plus derogatory credit history entries, like liens, bankruptcies, and judgments.

This search includes an all-important Credit Report. We also tap all 50 Secretary of State's databases, and we access professional licenses, tax liens, UCC, & legal action databases.

We often identify bank and financial accounts. UCC filings searches often return the name of the bank or lending institution that provided the financing for corporate loans. Our Business Credit Report many times returns bank relations.

We tap huge national databases for company and personal assets information. We confirm professional licenses. Our court representatives search county records for tax liens, judgments, and complaints.

Investigative Professionals' Reports are often returned within hours and are 100% guaranteed and confidential. Free consultation by phone and by email.

We have been conducting thorough background investigations since 1996 for individuals, employers, property owners and managers,
company executives, financial institutions, universities, and law firms.


Company and Business Investigation - Databases Searched

Business Associations & Professional Information
Business Search
Business Background & Credit Report
Partnerships & Corporate Affiliations
Company Name Search
FEIN Search
Legal Actions
UCC Filings
Professional License
Personal Information and Identity Verification
Identity Verification. Important database searches prove or disproves identity; discovers or confirms "identifiers" like DOB, SSN, and addresses.
Identity Verification. Important database searches prove or disprove identity; discovers or confirms "identifiers" like DOB, SSN, and addresses reported on credit applications
Also Know As (aka's). Discover other names associated with subject's Social Security Number (SSN). Search and Verification. Has your subject used other Social Security numbers in the past? This could be a cause for concern.
Others Associated with Subject's SSN
Phone Summary
Subject's Residence' Property Owners
Possible Properties Owned by Subject
Possible Associates
Possible Relatives
National Death Index
Financial Information
Credit Report (Signed Release Required)
Motor Vehicles Registered. May also include vehicles owned by others living at the subject's address
Aircraft Ownership
Boats Ownership
Civil Court Records
Judgments
Liens
Bankruptcies - national search by name
Federal Civil and Criminal Courts Search - all federal courts, all regions
Criminal Records
Nationwide Criminal Record Search: National convicts and felons database
Sexual Offender Search: State's lists of sexual offenders
OFAC Database: The Office of Foreign Assets Control, (lists criminals and terrorists around the world).