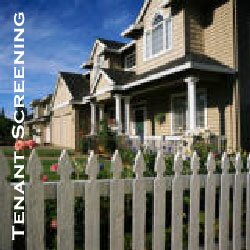 Tenant Background Screening Includes Evictions $125
Bad tenants cost owners and managers money, their actions can cause unforeseen liabilities. Our Thorough Screening will help to minimize renter problems. Check on the background of potential renters. Establish their qualification as a renter, and the risk of property damage and financial loss is reduced.

We have developed - over many years of hard-earned, hands-on experience - a custom-designed Tenant Screening Package that will help you determine the reliability of potential renters.

Investigative Professionals' Background Check will confirm the reliability of potential renters and roommates. Previous addresses and landowners, as well as roommates, will be revealed.

Report Includes |

Sample Report |
Sample Credit Report |
Compare Reports
Tenant Screening
$125



Four levels of Criminal Records are searched: national Department of Corrections for felons, State-wide and County Criminal Courts records and Sex Offender databases are scrutinized. International OFAC Patriot Act database searches are also included.

Civil Court records are searched for lawsuits, bankruptcies, judgments, and liens. We check eviction databases nation-wide.

A credit report is available with a signed release of information. Investigative Professionals offers a variety of consent to release information forms.

Investigative Professionals' offers free consultation by phone and by email. All reports are 100% guaranteed and confidential. Reports are often returned within hours.

We have been conducting thorough background investigations since 1996 for individuals, employers, property owners and managers,
company executives, financial institutions, universities, and law firms.