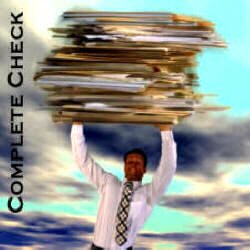 Fast and Complete Background Checks
At Investigative Professionals, LLC, our clients have a wide variety of personal and professional reasons for wanting full background checks. Whether you're looking for a complete background check for an employee screening, tenant screening or any other legal purpose, you can trust the seasoned professionals at Investigative Professionals to deliver comprehensive complete background checks.
Conducting effective full background checks is all about knowing where to look. We search a wide range of databases. We can tell you a wide array of information about anybody. Have they used aliases? Have they had credit problems? Have they been evicted? Have they been charged with a crime? Convicted? Are they on any state's offender registries? What are their assets? Our complete background checks provide all of this information and more.
If we lived in a perfect world, there would be no need to run full background checks. We'd all like to believe that we can trust what we are being told in an interview, on an application, or even on a date.
Unfortunately, the world doesn't work that way. There are all kinds of personal and business reasons to run full background checks. We've saved our clients tons of hassle and money by revealing issues with potential employees, business partners, and tenants. We've saved our clients the potential risk of being in a position of personal and financial liability. When you need to know, call the full background check specialists at Investigative Professionals, LLC.